Mining investment news, insights and company profiles
Colin Sandell-Hay, Contributor – July 12, 2022
Rare Earths Critical to a Clean Energy Future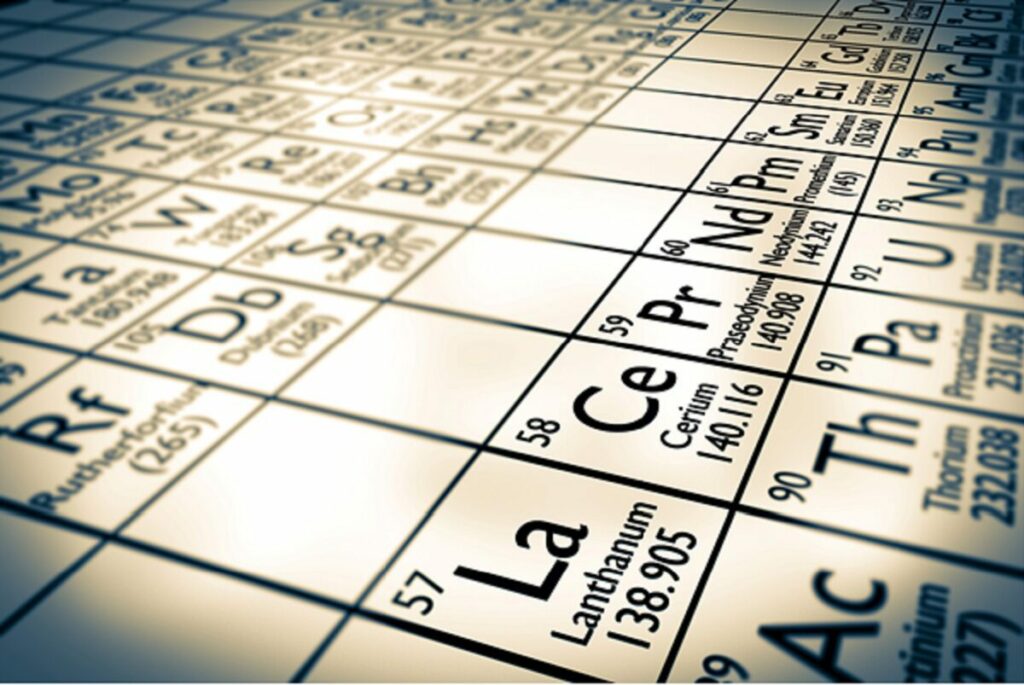 There is some confusion among the general public and mainstream media about critical minerals and rare earth minerals.
Critical minerals are specific minerals that have been identified – often by governments – as being critical to the future prosperity of their nation. Critical minerals lists can often include rare earths.
Rare earths are a specific group of 15 minerals that have been catalogued under one rare earths umbrella. Some of these elements are not particularly rare, but as a group they are considered critical to future clean energy development needs.
Rare-earth elements (REEs) are used in a bevy of technologies to generate cleaner, renewable energy. These include wind turbine magnets, solar cells, smartphone components, and cells used in electric vehicles, amongst others.
There are many who believe that the world will not reach its CO2 reduction targets without rare earths playing a significant role in the creation of clean energy technology.
The U.S. certainly appears to be of that mind, racing out new policies to support domestic rare earth development and pouring billions into new projects.
A recent case in point came in mid-June when the U.S. Department of Defense (DoD) signed an agreement with Lynas Rare Earths Ltd's (ASX: LYC) wholly owned subsidiary, Lynas USA LLC, for a follow-on contract for approximately US$120M to establish a first-of-its-kind commercial heavy rare earths (HRE) separation facility in Texas. This mutually beneficial contract supports Lynas to establish an operating footprint in the U.S.s, including the production of separated HRE products to complement its light rare earths product suite.
As a result, U.S. industry will secure access to domestically produced HREs which cannot be sourced today and which are essential to the development of a robust supply chain for future facing industries including electric vehicles, wind turbines, and electronics.
Lynas worked closely with the DoD on the Phase 1 contract for a U.S. based HRE separation facility, which has been followed up with this agreement for a full-scale commercial HRE facility.
Lynas plans to co-locate the HRE separation facility with the proposed light rare earths separation facility, which is sponsored and half funded by the U.S. DoD Title III, Defense Production Act office.
Following a detailed site selection process, the facility is expected to be located within an existing industrial area on the Gulf Coast of Texas and targeted to be operational in financial year 2025.
Feedstock for the facility will be a mixed rare-earths carbonate produced from material sourced at the Lynas mine in Mt Weld, Western Australia. Lynas will also work with potential third-party providers to source other suitable feedstocks as they become available.
"The development of a U.S. HRE separation facility is an important part of our accelerated growth plan and we look forward to not only meeting the rare earth needs of the U.S. government but also reinvigorating the local rare earths market. This includes working to develop the rare earths supply chain and value-added activities," Lynas Rare Earths' CEO and managing director, Amanda Lacaze, said.
'Unconventional resources'
In February, the U.S. Department of Energy (DOE) released a Request for Information (RFI) on the design, construction and operation of a new facility to demonstrate the commercial feasibility of a full-scale REE and critical minerals extraction and separation refinery using unconventional resources.
When built, this first-of-a-kind facility, supported by US$140M of investment from the Bipartisan Infrastructure Law, will support American manufacturing jobs, and help build a strong domestic supply chain for the next generation of clean energy technologies vital to reaching President Biden's goal of a net-zero emissions future.
"Applying next-generation technology to convert legacy fossil fuel waste into a domestic source of critical minerals needed to strengthen our supply chains is a win-win – delivering a healthier environment and driving us forward to our clean energy goals," said U.S. secretary of energy, Jennifer Granholm.
"REEs and critical minerals are essential materials that are used in a broad range of technologies that are significant to national security and energy, such as advanced aircraft, wind turbines, electric vehicles, semiconductors, and hydrogen fuel cells."
Secretary Granholm said that currently, even when REEs are being mined within the U.S., they are shipped overseas for processing, before being sold back to the U.S. in more expensive products.
She said the RFI seeks information from industry, investors, developers, academia, research laboratories, government agencies, non-governmental organizations, and potentially affected communities including environmental justice, tribal, energy transition, and other communities. The RFI solicits feedback on demonstration facility features, supply chain considerations, research and development needs, business models, and potential societal impacts and benefits.
Overseas concerns
Meanwhile, U.S. senator, Marco Rubio, has written to his counterparts expressing a concern over the country's current REE position.
"A country incapable of providing for itself isn't much of a great power. To ensure America stays strong for generations to come, we need to bring production of goods essential to our national security back home. That starts with re-shoring rare earth manufacturing," the senator said.
"In the 21st-century economy, rare earth minerals are crucial for powering advanced electronics. They form essential components of everything from batteries and household computers to wind turbines and military weapon systems. Without them, our modern way of life and capacity for self defense would be crippled.
"For some, industrial policy is a dirty term associated with planned economies. But Americans have long accepted government action to help maintain domestic manufacturing in critical industries.
"It makes sense that we buy ships from General Dynamics, airplanes from Boeing, and missiles from Raytheon – even if it would be cheaper to import them from abroad – because it is clear they are goods vital to our national security. Well, the last two years have taught us that the list of such goods needs to be expanded.
"North America contains a considerable quantity of unprocessed rare earth minerals. However, the vast majority of rare earth manufacturing occurs in China… If China cut us off from rare earth products – which Beijing has restricted in the past and could easily do again – the effects would be catastrophic. That's why I have introduced legislation to bring rare earth manufacturing back to America."
The senator recently introduced the Obtaining National and Secure Homeland Operations for Rare Earth (ONSHORE) Manufacturing Act. The legislation would incentivize the development of rare earth metallurgy manufacturing facilities in the country by creating a financial investment programme within the U.S. Department of Energy (DOE).
Source: https://www.theassay.com/articles/feature-story/rare-earths-critical-to-a-clean-energy-future/